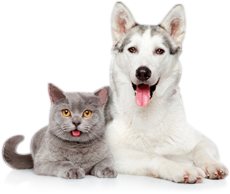 LV Natural Holistic Cat Food
All Life Stages

(Pacific + Collagen )

Features :

| | |
| --- | --- |
| Nourish Diet for Long Hair and Sensitive Cats | |

Pacific Fishes & Scallop for Better Digestion
Cod Oil Omega 3(DHA), Vit. E & Collagen Nourish Skin and Coat
Fruit Enzyme+Probiotic+Herbs Enhance Gastrointestinal Health and Less Odour
FORMOSA Seasonal Veggies and Fruits Strong the Immune System
Hairball Control Formula and Balanced pH for Lower Urinary Tract Health
Novel Ingredients (Spirulina, FOS, Evening Primrose Oil, Glucosamine, L-caritine) Naturally Provide Holistic Nutrition



Net Wt:




0.8LB

(360g)

/

3.3LB

(1.5Kg)

/

10LB

(4.5Kg)
Pacific Rim Fishes (Mackerel, Sardine, Anchovy, Cod, Tuna, Salmon, Scallop), Starch (Cassava, Sweet Potato, Pumpkin), Peas, Cod Oil (Omega 3, DHA, EPA Source, Tocopherol, Vitamin C Preservation), Vegetable Oil (Palm Oil, Sunflower Oil), Fish Collagen, Flaxseed (Omega 3 Source), Sesame (Organic Calcium), Seaweed, Fresh Vegetables (Burdock, Yam Tuber, Sweet Potato Leaves, Lettuce, Broccoli, Eggplant, Pakchoi, Carrot, Cabbage, Celery, Leaf Mustard, Black Tree Fungus), Fresh Fruits (Guava, Tomato, Papaya, Pineapple, Mulberry, Banana, Apple, Coconut), Essential Minerals and Chelated Minerals (Dicalcium Phosphate, Calcium Lactate, Sodium Chloride, Potassium Chloride, Ferric Methionine Chelate, Copper Methionine Chelate, Zinc Methionine Chelate, Manganese Methionine Chelate, Potassium Iodate, Selenium Yeast Complex), Vitamins (Choline Chloride, Vitamin A, Vitamin E, Vitamin C, Vitamin D3, Vitamin B1, Nicotinic Acid, D-Calcium Pantothenate, Vitamin B6, Riboflavin (Vitamin B2), Folic Acid (Vitamin B9), D-Biotin (Vitamin H), Vitamin B12), L-Lysine, DL Methionine, Fructo-Oligosaccharides, Spirulina, Egg (Lecithin), Yucca Powder, Taurine, Protease, Bacillus Subtilis, Lactobacillus Plantarum, Evening Primrose Oil (GLA), Glucosamine, L-Carnitine, Vitamin E, DL-alpha-
Tocopherol, Rosemary Extract.
Protein:40%
Fat:16%
Fiber:4%
Moisture:9%
Calcium:1.2%

OMEGA3(ALA/DHA/EPA):1.2%
OMEGA6(LA/GLA/AA):4.0%

Magnesium:0.1%
Iron:150mg/kg
Zinc:120mg/kg
Phosphorus:1.0%

Vitamin A:15,000iu/kg
Vitamin D:1,500iu/kg
Vitamin E:50iu/kg
Taurine:2000ppm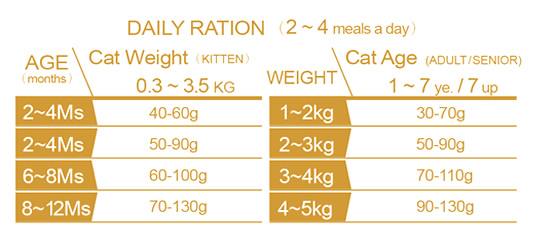 Feeding Guideline:

●

Feeding this food for the first time? Mixing increasing amount of this diet with decreasing amounts of the
old food over a 7-10 day period.
The feeding amounts are a starting point only.
Your pet may need less or more food to maintain a proper weight depending on its age, environment, condition, temperament and activity. If in doubt, consult your veterinarian.

●

Serve dry or moistened by mixing a portion of kibbles with an equivalent volume of warm water (40℃) or wet (pouch or canned) foods.

●

Remove the leftover and keep fresh drinking water available at all times.
Store in a cool, dry place. Reseal tightly and finish within one month after opening. Do not directly expose to the sun.